On the sidelines of the SAMENA Leaders' Summit, the President of Huawei Middle East, Charles Yang, has provided an update on the company's business globally and across local markets, with his comments following Huawei's release of its annual earnings results for 2020. The executive has emphasized the strategic importance of the region to the company internationally, noting Huawei's commitment to the region, and that there are significant opportunities to enable more aggressive digital transformation in support of national development visions and targets, as well as to grow its market presence.
In particular, the company has been ramping up its projects in Saudi Arabia to support the local ICT ecosystem. Huawei has already been working with industry leaders such as STC, Aramco, and others to help them to improve the efficiency of operations through digitization. By empowering local partners, bolstering talent development, and committing support to mega projects like NEOM, Yang believes that the company can contribute greatly to the digitization efforts outlined in Vision 2030 as well as other development strategies.
Huawei has said that it used the last year to further enhance its operations despite a challenging global environment. That led to achieving revenue and profit growth during 2020 overall. Part of that came down to an unwavering focus on R&D and joint innovation programs in areas like 5G, AI, and cloud, says Yang, with Huawei establishing 13 Open Labs around the world to support open collaboration for shared success.
In particular, global 5G deployments have proceeded faster than expected. By the end of 2020, more than 140 commercial 5G networks had been deployed in 59 countries and regions, and the number of 5G subscribers worldwide had exceeded 220 million. Globally, the number of 5G networks and base stations of the first year is 6 times more than 4G, and user growth of 5G is 500 times faster. Middle East has become a leading 5G region globally. In just 19 months, the number of 5G users have exceeded 2 million which 4G took double times, and it is expected that 5G user grow very fast. That's why Regulators in the Middle East have released many policies which greatly promote 5G development, yet Yang says that more industry policies are still needed to unleash 5G's full potential.
Today, Huawei is a major 5G solutions partner to telecom carriers and enterprises across the Middle East. It is a position earned as a result of investing early and heavily in technology R&D. The company began 5G research as early as 2009, and has invested USD4 billion in 5G so far. Moreover, Huawei's R&D investments over the past decade have exceeded USD110 billion. In 2020 alone, Huawei's carrier business group ensured the stable operations of more than 1,500 networks across over 170 countries and regions throughout COVID-19 lockdowns.
After contracting in 2020, overall ICT spending in the Middle East, Turkey, and Africa is expected to make a comeback in 2021, returning to positive growth of over USD209.5 billion, according to IDC.
To serve these ambitious projects, Huawei acknowledges there is still a need to develop a stronger local talent ecosystem. Due to the pandemic, knowledge-exchange platforms must be revisited, with new programs initiated. Yang cites how Huawei's own "LearnOn" online learning platform was launched in the Middle East last year, and to date more than 35,000 people have used the platform for training. Yang has also stressed that Huawei will continue investing in programs such as its Seeds for the Future initiative and ICT Competition, as well as in Huawei ICT Academies and laboratory funding, to develop 70,000 ICT talents and build 100 Joint Innovation Centers for the Middle East by 2025.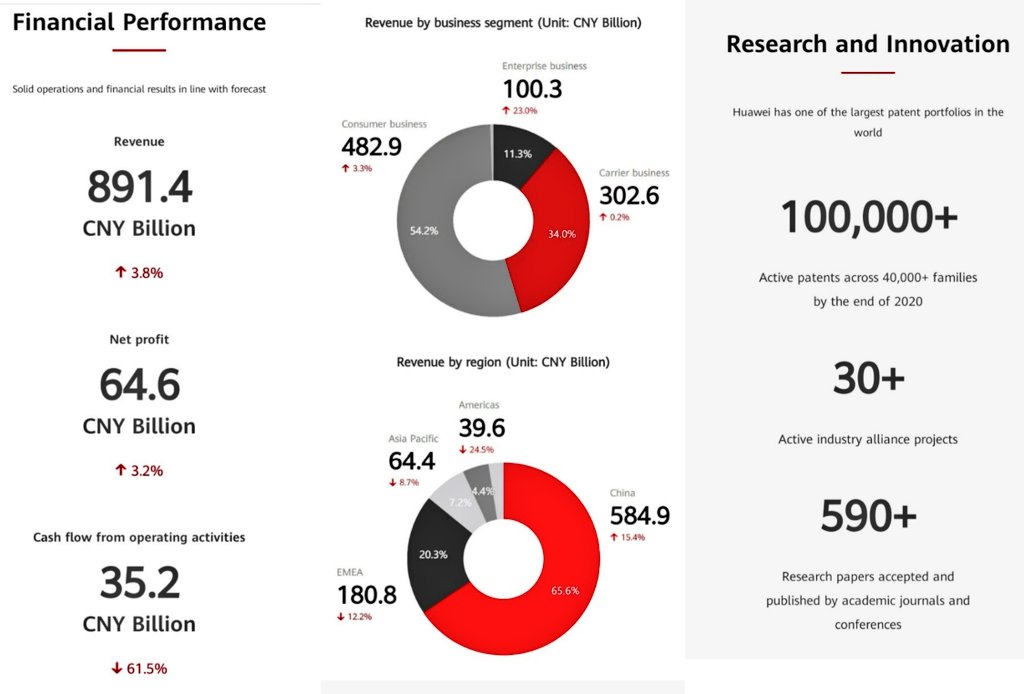 In March, Huawei released its 2020 Annual Report noting that sales revenue in 2020 rounded off at approximately US$136.7 billion, up 3.8% year-on-year, and its net profit reached US$9.9 billion, up 3.2% year-on-year. To date, 700+ cities and 253 Fortune Global 500 companies have chosen Huawei as a partner for digital transformation.
In 2021, that spirit of collaboration and exchange will be all the more important for Huawei. Huawei believes that underpinning that cooperation is a shared responsibility towards cybersecurity. The company has thus been working closely with governments, security experts, and enterprises across the Middle East to help evolve cybersecurity assurance and privacy protection systems.
Charles Yang, President of Huawei Middle East
, said;
Digitization in the Middle East has accelerated remarkably over the last year, with global network traffic having increased by around 50% during the pandemic. The ICT industry thus has an important responsibility to create new social and business value for governments, organizations, and individuals. We are fully committed to this value creation. We already bring the power of technologies like 5G to key events such as the annual Hajj pilgrimage in Saudi Arabia, and are now aligning with governments to support mega-events like Expo 2020 in the UAE and the FIFA World Cup 2022 in Qatar. We will keep innovating to create value for our customers and to support economic recovery and social progress.




The Middle East has been an exciting region for us given the enormous scale of developments that are underway that can be empowered by technology. This is epitomized by the rapid development of 5G that has exceeded many expectations. Computing power also plays an integral role in enabling businesses when it works in parallel with 5G. The region today is more connected than at any point in history.




Cybersecurity and privacy protection have been and will always be our top priorities. Yet cybersecurity is not an issue for any single company or country alone. Huawei has not had any major cybersecurity incidents while working with more than 500 telecom providers, including most of the top 50 telecom operators worldwide. To ensure transparency and joint collaboration, Huawei is always ready to sign cybersecurity cooperation agreements with governments and customers in the Middle East. Together, we will keep pushing the boundaries of technology and driving digital transformation forward with our customers and partners.




In today's digital economy, we judge cooperation as fundamentally more important than competition. We need to enable others. At Huawei, we don't compete for profit with others or with our partners. It is not a zero-sum game. We are a business that thrives on openness, collaboration, and shared success, where we can address real needs and create real value. As such, we will continue to advocate for broader collaboration between the industry, government, and academia to help light up the future through innovation.