Samsung Saudi Arabia today announced that pre-orders for new Galaxy S22 Series is now available across the KSA. Galaxy S22, S22+ and S22 Ultra introduce dynamic cameras with advanced intelligent image processing to make every moment epic. Built with a bold, sustainably conscious design, Galaxy S22 Series is designed to be both beautiful and environmentally conscious.
Galaxy S22 and S22+
From work to home, Galaxy S22 and S22+ are designed to power you through even the busiest days. Galaxy S22 is built with a robust all-day battery and 25W super-fast charging that never slows you down, and Galaxy S22+ features a super powerful battery that can last even longer than a day on a single charge. With Nightography feature for smoother, clearer nighttime video and photos, to take your creativity to another level, starting with your smartphone camera. The Galaxy S22 and S22+ are showcase advanced VDIS technology which minimizes shakiness, so you get smooth, sharp footage even when you're on the move.
Both devices come equipped with a Dynamic AMOLED 2x display, designed for the best in gaming and watching. Secured by Samsung's powerful Knox Vault security platform, the Galaxy S22 Series also introduces several new security features, including ARM micro architecture, which prevents cyberattacks that target your operating system and memory.
In terms of hardware, the Galaxy S22 and S22+ are the first S Series models made with Armor Aluminum – the strongest aluminum in the industry. As our most eco-conscious device ever, the Galaxy S22 Series pioneers mobile technology while supporting our planet. 100% recycled paper is used for the Galaxy S22's packaging, which includes a protective film made from recycled plastic. Every case is also designed with UL-certified, eco-conscious materials – such as recycled post-consumer plastics or bio-based substances.
Galaxy S22 Ultra
Galaxy S22 Ultra sets a new standard for what a smartphone can be. For the first time in the S Series, Galaxy's signature S Pen comes built-in so you can write and draw on Galaxy S22 Ultra's expansive screen and enjoy a more realistic pen-to-paper feel. Galaxy S22 Ultra's camera ensures you get the best possible images and video, whether conferencing for work, watching movies or staying connected to your loved ones. And with Galaxy S22 Ultra's advanced Nightography features, your creativity doesn't stop just because it gets dark. The Galaxy S22 Ultra boasts a quadruple-lens camera with 100X Space Zoom, and powerful dual-tele lens gets you even closer to the action with total clarity.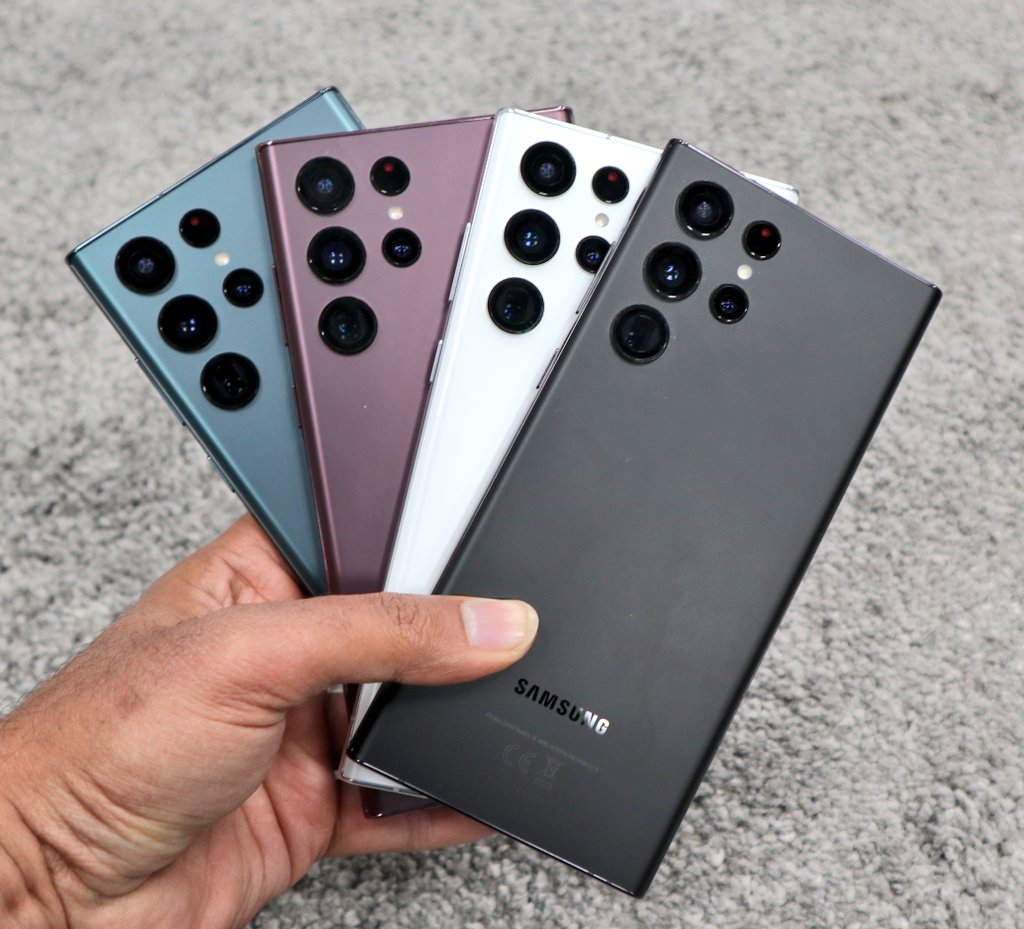 Photography enthusiasts and pros can take full advantage of Galaxy S22 Ultra's Expert RAW app. The DSLR-like experience helps you tailor pictures and videos to look exactly the way you want, using comprehensive in-camera editing tools that let you modify shutter speed, exposure level, and more. Its expansive and bright display represents mobile technology at its best.
Galaxy S22 Ultra comes with the first-ever Galaxy S battery that lasts for more than a day and with 45W super-fast charging, you can record for 54 minutes or stream 4 episodes of your favorite series – all after a 10-minute charge. This is the most powerful Ultra device we've ever made — unlocking totally new mobile experiences.
Galaxy lovers across the KSA can now pre-order for the Galaxy S22 Series up until March 10th in Samsung stores and authorized online channels. Galaxy S22 Series will be available in the following colors and memory options:
Galaxy S22/22+: Phantom Black, Phantom White, Green, and Pink Gold in 128GB and 256GB models.
Galaxy S22 Ultra: Phantom Black, Phantom White, Green, and Burgundy in 128GB, 256GB and 512GB models.
Pre-order Offer
Customers who pre-order the Galaxy S22 Ultra series from Samsung retail shops will receive the Galaxy Buds Pro, and Samsung Screen Care Card, while those who pre-order from Samsung.com will receive the Galaxy Buds Pro, 1 year Samsung Care+, as well as trade-in opportunities.
Prices of the devices vary according to model and memory size:-
Galaxy S22 Ultra (512 GB) : SAR 5,699
Galaxy S22 Ultra (256 GB) : SAR 5,299
Galaxy S22 Ultra (128 GB) : SAR 4,899
Galaxy S22+ (256 GB) : SAR 4,149
Galaxy S22+ (128 GB) : SAR 3,949
Galaxy S22 (256 GB) : SAR 3,499
Galaxy S22 (128 GB) : SAR 3,299