Huawei has launched the new MateBook series laptops, the MateBook 13s and MateBook 14s, in Saudi Arabia along with a bunch of other products in a media event.
The HUAWEI MateBook 14s will be available at 6499 SAR and the price of MateBook 13S in Saudi Arabia will be 5999 SAR. Both devices come with a pre-offer between November 24 and December 1, 2021 that includes a voucher of 500 SAR and a set of gifts worth 2042 SAR, including HUAWEI CD60 Backpack, HUAWEI Bluetooth Mouse Swift, MateDock 2 and M5Pro.
You can pre-order the new Huawei MateBook 14s and MateBook 13s here - https://bit.ly/3rfrJB3
The MateBook 14S includes a 2.5K HD touch screen that is fun and eye-friendly at the same time. The HUAWEI MateBook 14S also inherits two distinct Huawei FullView display designs. The user gets a FullView display with a high
90 % screen-to-body ratio
. Despite the inclusion of a front camera, the screen still offers an immersive view. The FullView screen has a 3:2 aspect ratio that allows the screen to display more content vertically. Whether it is for browsing or editing content, it gives office workers and professionals more space to unleash their potential.
HUAWEI MateBook 14s features a 2520 x 1680 pixel resolution 90Hz display and a 213 PPI. It also supports a wide color gamut of 100% sRGB. HUAWEI MateBooks is equipped with an innovative luminescent material that is used to effectively identify and filter harmful blue light, and this laptop has been TÜV Rheinland Low Blue Light certified. Moreover, the new laptop comes loaded with an optical sensor that perceives the changing ambient lights and applies intelligent screen brightness adjustment accordingly.
The HUAWEI MateBook 14s features an all-new 11th generation Intel® Core™ processor, which runs at standard voltage. This enables users to enable Performance Mode, which boosts the CPU's TDP to 45W, and obtains the additional computing power needed for multitasking. It also features brilliant Intel® Iris® Xe integrated graphics, which enables the laptop to handle complex creative workloads with ease. In addition, HUAWEI MateBook 14s has 16GB LPDDR4x dual channel RAM, supports up to 1TB NVMe PCIe SSD. With amazing read and write speeds, the laptop can easily handle large storage and compression needs, facilitating a seamless multitasking experience.
With Multi-screen Collaboration feature, with a simple click, the HUAWEI MateBook can be connected to a Huawei smartphone to enable cross-platform collaboration for real-time interaction. The smartphone interface will be displayed on the laptop screen, which means that the user can use two systems within one screen. The user can not only control the smartphone on the side of the laptop, but also can access the rich application ecosystem through a laptop.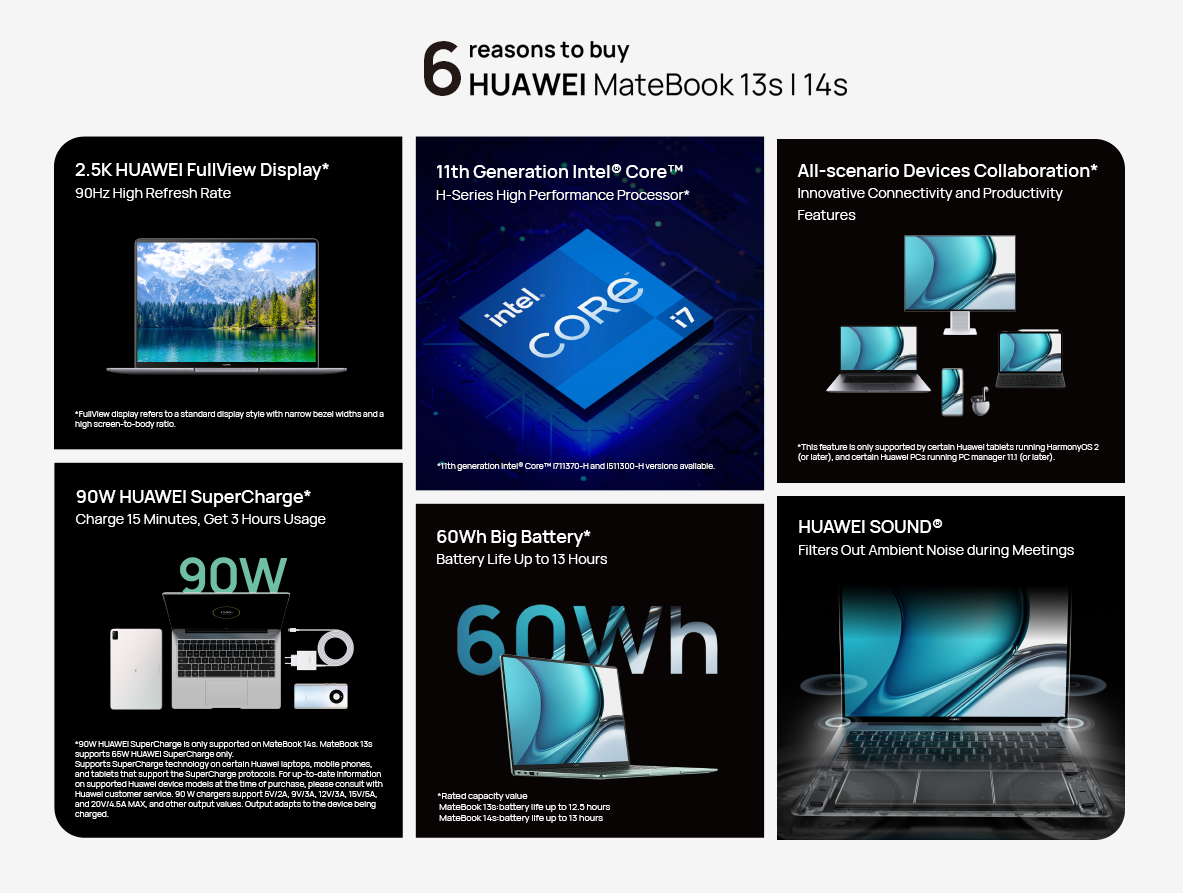 Files can be shared between two devices by simple drag and drop or tap. This allows the user to easily view, edit and share files, images, and texts on both sides. Also, the content can be directly copied and pasted between two devices, so that it is clear and easy to use. Peripherals such as mouse and keyboard can be used to control the smartphone, so that the user can work on both devices directly on one device. Users can also use the laptop to answer incoming voice and video calls on the smartphone, open and edit smartphone files directly on the laptop, open three mobile app windows on the large laptop screen, with one primary and one secondary and uers can unlock and control the smartphone from the HUAWEI MateBook.
The Multi-screen collaboration between PC and Tablet gives the user access to extensive applications and features, and the PC offers high performance, a larger viewing area, and multi-screen collaboration. In the Mirroring Mode, the PC screen is projected onto the tablet and both devices show the same content. And in the Extend Mode, the computer screen is extended to the tablet and both devices show different content as the tablet acts as an external monitor for the PC where the user can scroll and browse the content. In the Collaborate Mode, content can be shared across PC and tablet using drag and drop feature.
HUAWEI MateBook 14s features a high-capacity battery with a capacity of 60Wh. With that said, the laptop supports 13 hours of continuous 1080p video playback. The HUAWEI MateBook 14s also comes with a 90W pocketable power adapter that provides fast charging for your laptop. It can provide enough battery for 3 hours of productivity in just 15 minutes of charging time.
Featuring four speakers, including tweeters and separate tweeters, HUAWEI MateBook 14s, not to mention Huawei's audio reconstruction algorithms, brings impressive stereo sound with clear layers and fine imaging. For voice recording, the laptop also comes with a set of four microphones that are positioned along the edges. Quad edge microphones support 360-degree comprehensive sound range and can reach up to 5 meters of long-distance audio pickup. The HUAWEI MateBook 14s also comes with the industry's first Personal Voice Enhancement and AI Noise Cancellation technology that allows the laptop to focus on capturing human voices while reducing audio reception and ambient noise. With that, audio picked up from great distances has never sounded better.