POCO has announced the global launch of its latest flagship POCO F4 GT smartphone along with POCO Buds Pro Genshin Impact Edition and POCO Watch - the brand's first-ever AIoT products.
Living up to its potential, POCO F4 GT delivers an impressively apex performance with a flagship 4nm Snapdragon® 8 Gen 1 processor, backed by a sophisticated LiquidCool Technology 3.0, a flat AMOLED display with 120Hz refresh rate, magnetic pop-up triggers, and topped off by 120W HyperCharge.
Meanwhile,
POCO Buds Pro Genshin Impact Edition
offers the most immersive listening experience for smartphone users - especially mobile gamers and Genshin Impact fans - with an all-new design, AI self-adaptive noise cancellation and 28-hour ultra-long battery life. In addition, the new
POCO Watch
, which has more than 100 fitness modes built in, a 24-hour heart rate tracker and a battery life of up to 14 days, is designed for fitness lovers who care about their personal health and well-being.
POCO F4 GT
With a flagship 4nm Snapdragon® 8 Gen 1 processor running at 3.0 GHz increases CPU performance by 20% and GPU performance by up to 50%. Meanwhile, POCO F4 GT offers a fully-fledged LPDDR5 RAM with up to 6400Mbps for shorter load times, along with an upgraded UFS 3.1 ROM. POCO F4 GT is equipped with the latest LiquidCool Technology 3.0, one of the most advanced cooling systems in the industry. The 4,860mm² dual VC cooling system manages to bring down high temperatures, culminating from a powerful machine optimized to run intense gaming sessions.
POCO F4 GT boasts POCO's first 120W HyperCharge and a 4,700mAh big battery, which can be fully charged in 17 minutes. And if gamers need more juice in mid-game, POCO F4 GT can replenish its battery to 100% in only 27 minutes. Not only does POCO F4 GT sport rapid recharge times, but the battery's lifespan also can be optimally preserved as a benefit of its AdaptiveCharge feature. This feature prevents the battery from overcharging in the critical 80% to 100% charge range throughout the night.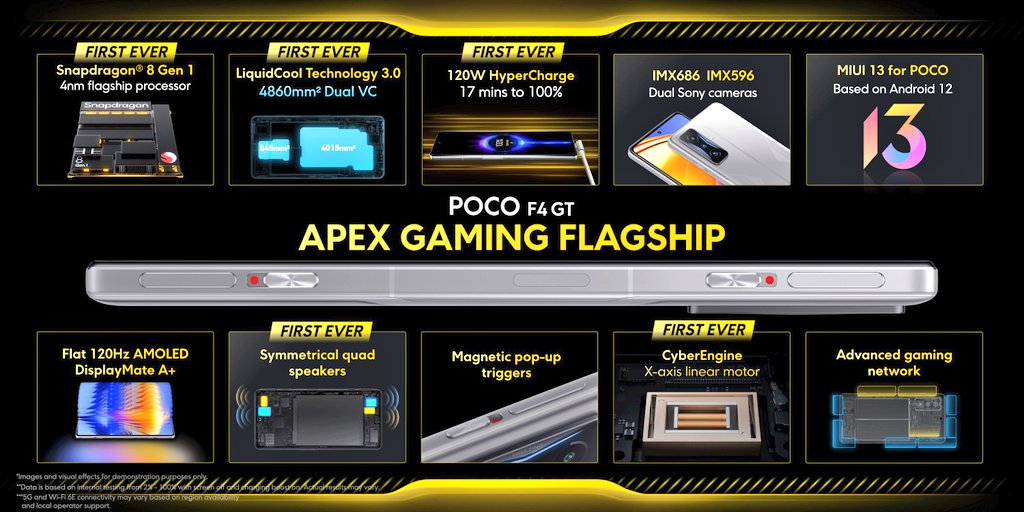 The unique levitating magnetic pop-up triggers, able to handle 1.5 million times press, have been tested on more than 100 popular games. This ensures unbeatable stability, responsiveness, and durability. To attain a more premium gaming experience, the CyberEngine, one of the best linear motor available on Android smartphone, offers more ranges of vibration. When out of gaming mode, the triggers can also be used as a shortcut for quick access on the go, such as a shortcut to activate camera, screen recording or flashlight.
At the press of a button, users can turn on the screen to be floored by POCO's latest 6.67-inch flat AMOLED and 10-bit TrueColor display, which when combined with the responsive 480Hz touch sampling rate and the up to 120Hz refresh rate, makes the screen come to life. Whether gaming or streaming shows, the true-to-life color spectrum leaps from the screen. POCO F4 GT also works to simultaneously maintain color accuracy in low-light settings while using high-frequency PWM dimming to protect its users' eyes during marathon screen time sessions. POCO F4 GT's display has set and matched 15 display performance records from Display Mate and is rated as A+ screen.
Users can enjoy the premium after-sales service, which offering one-time free screen repair service during the first 6 months after purchase. In addition, YouTube's subscription service, YouTube Premium, will come pre-installed on POCO F4 GT. To sweeten the deal, customers can enjoy YouTube Premium for up to two months free. That means two months of ad-free, offline viewing, and uninterrupted access to video and music content across the YouTube platform.
POCO Buds Pro Genshin Impact Edition
POCO Buds Pro Genshin Impact Edition are specially designed for Genshin Impact fans. From the moment the earbuds are turned on, fans will hear familiar voice notifications from the iconic character, Klee. Just pull them from their carrying case inspired by Klee's backpack, slip them on, and become immersed as if you've already fired up the game.
As one of POCO's first AIoT products, POCO Buds Pro Genshin Impact Edition use artificial intelligence to automatically adjust noise cancellation settings based on the surrounding noise level and the user's daily routine. During calls, each earbud can provide crisp and clear audio even in the noisiest of environments with advanced AI algorithm.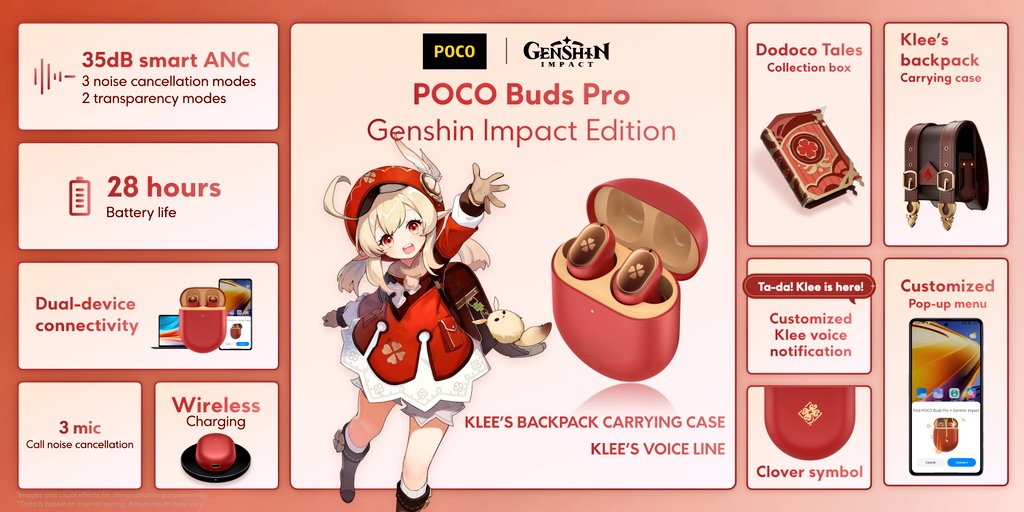 For a more hardcore audio performance, every sound that is delivered has been tweaked and perfected by audio professionals to create a dynamic experience. Everything from an audiobook to a rock opera is presented with sharp and clear sound. The 9mm composite dynamic driver guarantee that the user gets access to both sound processing at the most professional level, and the most authentic and detailed sound. And to never miss a beat, the earbuds' in-ear detection feature pauses audio when they are taken out. The device is also IPX4 water resistant, preventing damage from rain, sweat and splashes.
The charging case can last up to 28 hours, and the buds can be charged within 10 minutes. And the charging case, which can also be charged wirelessly, while the earbuds are able to do the same in about an hour. The earbuds can also connect to two devices, allowing users to seamlessly transition between sources. This means switching between a smartphone and a laptop to join a meeting has never been easier.
POCO Watch
POCO Watch is the go-to choose for fitness enthusiasts looking to bring out their style and personality. With a variety of distinct colors available, POCO Watch is a cool, yet effective way to track their health. The 1.6-inch AMOLED touch display and an ultra-slim bezel lights up the screen in stunning clarity. Wearers can also stand out with more than 100 customizable watch faces.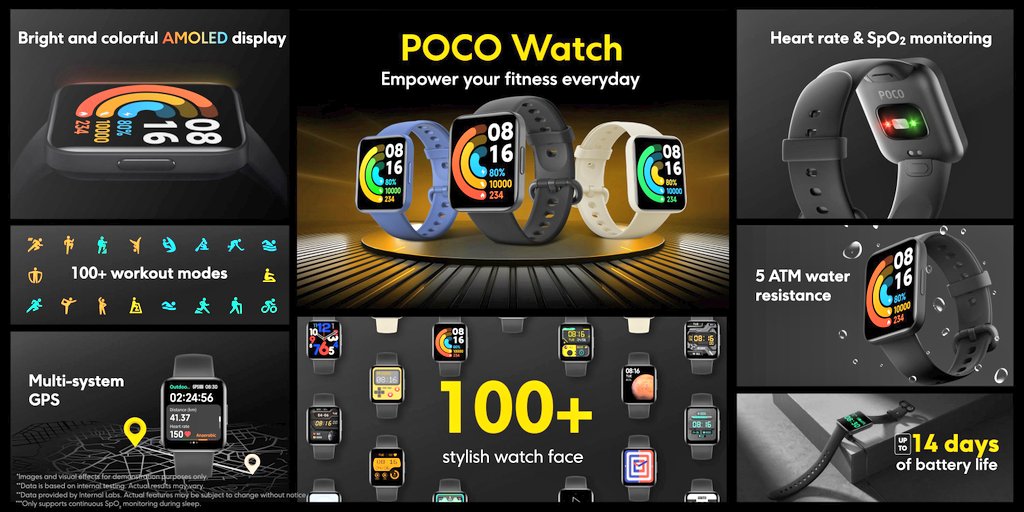 To better track your fitness progress, for example, your vitals on trial runs or capturing the moment you summit a mountain, the Multi-system GPS offers greater accuracy while using one of the more than 100 exercise modes that come installed on POCO Watch. It can also detect when a user is doing a variety of activities from running on a treadmill to taking a walk outside. In conjunction with sleep monitoring function, POCO Watch monitors blood oxygen levels during sleep. Along with these functions, users can learn how best to adjust their routine for their lifestyle by POCO Watch.
POCO Watch does all this, powered by a battery that can last up to 14 days. That means it can handle all the box jumps, laps around the park, or afternoon naps. When POCO Watch's battery runs low, simply plug it into the easy-to-carry magnetic charger and be ready for the next adventure.
Product Pricing and Availability
POCO F4 GT will come in three colors: Stealth Black, Knight Silver, and Cyber Yellow and will be available from April 28th at an early bird price of €499 and €599 for two variants to maximum 7 days in different sales regions via leading e-commerce platforms.
8GB + 128GB: Recommended retail price at €599 via official e-commerce channels.
12GB + 256GB: Recommended retail price at €699 via official e-commerce channels.
POCO Buds Pro Genshin Impact Edition will be available for purchase at a price of €69 and POCO Watch will be available for purchase at a price of €79, both via e-commerce platforms.