The true test for a mobile gaming smartphone is heat management. Requiring a small device to run for extended periods can lead to poor performance. For this reason, POCO F4 GT is equipped with the latest LiquidCool Technology 3.0, one of the most advanced cooling systems in the industry. The 4,860mm² dual VC cooling system manages to bring down high temperatures, culminating from a powerful machine optimized to run intense gaming sessions.
To feed the power, POCO F4 GT boasts POCO's first 120W HyperCharge and a 4,700mAh big battery, which can be fully charged in 17 minutes. And if gamers need more juice in mid-game, POCO F4 GT can replenish its battery to 100% in only 27 minutes. Not only does POCO F4 GT sport rapid recharge times, the battery's lifespan can be optimally preserved as a benefit of its AdaptiveCharge feature. This feature prevents the battery from overcharging in the critical 80% to 100% charge range throughout the night.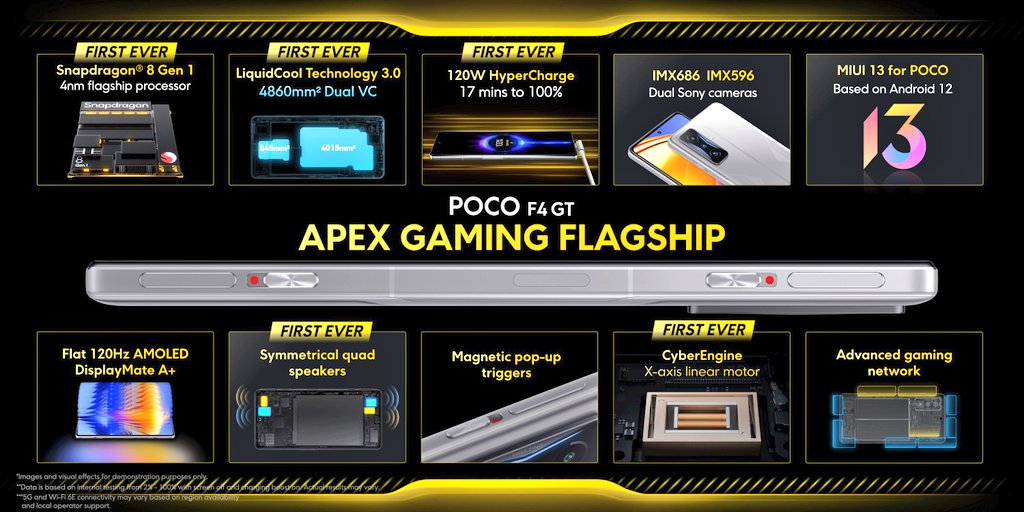 Magnetic triggers pop up, standing tall in preparation for battle. The setup has surpassed expectations. The unique levitating magnetic pop-up triggers, able to handle 1.5 million times press, have been tested on more than 100 popular games. This ensures unbeatable stability, responsiveness and durability. To attain a more premium gaming experience, the CyberEngine, one of the best linear motor available on Android smartphone, offers more ranges of vibration. POCO F4 GT is ready for whatever users may throw at it, not only for the extended sessions of mobile gaming also in daily use. When out of gaming mode, the triggers can also be used as a shortcut for quick access on the go, such as a shortcut to activate camera, screen recording or flashlight.
POCO is equipped with the latest 6.67-inch flat AMOLED and 10-bit TrueColor display, which when combined with the responsive 480Hz touch sampling rate and the up to 120Hz refresh rate, makes the screen come to life. POCO F4 GT also works to simultaneously maintain color accuracy in low-light settings while using high-frequency PWM dimming to protect its users' eyes during marathon screen time sessions. POCO F4 GT's display has set and matched 15 display performance records from Display Mate and is rated as A+ screen.
Product Availability
POCO F4 GT will come in three colors: Stealth Black, Knight Silver, and Cyber Yellow. It will also be available in one variant: 12GB+256GB at SAR 2,599 exclusive in Jarir Bookstore
Pre-order for POCO F4 GT is available for one week starting on the 26th of May till 1st of June, with the following bundle exclusively at Jarir Bookstore (200 SAR voucher where you can buy Google play credit or any other gaming credit + 6 months screen protection).