nubia has officially announced the new REDMAGIC 8 Pro, dubbed as the "The King of Performance." It is powered by Qualcomm Snapdragon 8 Gen 2, Red Core 2 with LPDDR5 x, and UFS 4.0 for a strong, long-lasting performance. Along with the industry's first ultra-narrow bezel OLED full screen and the second generation of the under-display camera. The two editions' designs are inspired by a "Hardcore Mech" style with robust body lines for an aggressive, simple, and futuristic appearance. "Dark Blade Warrior'' has 12 GB RAM paired with 256GB data storage and Specter Warrior Edition has 16GB RAM paired with 512GB data storage.
The latest software evolution, REDMAGIC OS 6.0, integrates multiple devices and platforms. Also, the new OS incorporates Nubia's "XR Labs," where users can now view Mora in augmented reality (AR) and create a 2D Mora with one click, which users can use for live streaming. The REDMAGIC studio can wirelessly project 120Hz with nearly zero latency to a PC. It is HDMI and USB compatible with TVs and can be connected to monitors with type-C cables.
During the conference, nubia also revealed REDMAGIC's new logo to embody its continuous and constant evolution of becoming more than a gaming smartphone but the right gear for gamers and beyond. Re-designed with fans in mind. The new logo adapts a new palette of colors with a more defined and reshaped structure to empower gamers to "Win more Games'' and beyond.

Long-lasting Powerful Performance: Snapdragon 8 Gen 2
Compared to the previous generation, the Snapdragon 8 Gen 2 chip on the REDMAGIC 8 Pro offers a peak speed of 3.2 GHz, a 37% improvement in CPU power efficiency, a 42% improvement in GPU performance, and 50% more power efficiency. Qualcomm's Snapdragon 8 Gen 2 is over 100% faster with LPDDR5x memory and up to 512GB ROM UFS 4.0 for long-lasting performance achieving an Antutu score of 1348653. For a more intuitive gaming experience, there is also an upgraded dedicated gaming chip "Red Core 2", which can adjust shoulder triggers, vibrations, touch, and sound effects in real time
With the REDMAGIC 8 Pro's GPU upgrade, the energy efficiency ratio of the device has increased by 20% and the battery life of the 6000 mAh has increased by more than 20%. As for the cache and the display, both process the pictures synchronously and instantaneously by "calling" the quintuple buffering from the Magic GPU when an image needs to be displayed. This technology, part of the "cube performance optimizer" (CPO) compensates in-game frame rates without increasing power consumption for a more stable gaming experience.
Other improvements of the CPO consist of three triggers based on user interactions without increasing power consumption. First, in the absence of user interaction; the interaction trigger can automatically reduce battery consumption levels. The scene trigger can automatically optimize performance when video playback and gaming interaction are detected. Finally, the render trigger can activate the magic GPU to improve the stability of gaming frames.
ICE 11: the Coolest Cooling System with a Built-in Fan
This device boasts an enhanced heat dissipation cooling system that employs tenth layers of heat dissipation materials, including nubia's iconic 20,000 rpm built-in turbo fan with RGB lights for the transparent edition. nubia's turbo fan blades are shaped like shark fins with 0.1mm ultra-thin blades, which can reduce the temperature by a further 2.7°C, noise by 4dB, and increase airflow volume by 35%. The position of the air duct space has been adjusted to increase airflow by 35% in the wind duct.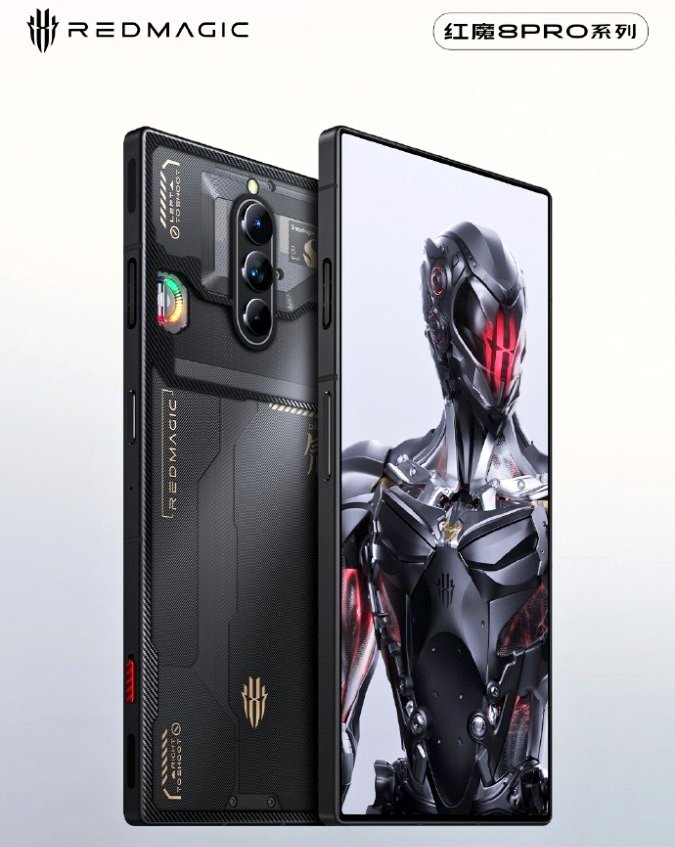 With this new flagship device, nubia has patented its new "3D Icing Vapor Chamber" (VC) liquid cooling plate. Added under the screen, the new VC combines different three-dimensional shapes and sizes to maximize space efficiency. As a result, its volume reached the industry's highest level of 2068 mm³, and its heat conduction efficiency improved by 600% compared to previous models.
The built-in within the tenth-layer heat dissipation structure is one of the most efficient in the industry for heat dissipation with a maximum fuselage temperature of 41.70°C. Its ten layers comprise the following: the 3D Icing VC liquid cooling plate, graphene under the screen, shark-fin high-speed centrifugal fan, an air inlet, and an aluminum middle frame with the use of rare earth materials with ultra-soft and high thermal conductivity, copper foil under the screen, high thermal conductivity gel, composite graphene, and superconducting copper foil.
Ultra-Narrow Bezel for a True Full Screen with 2nd Generation UDC
nubia's latest flagship device has a screen-to-body ratio of 93.7% thanks to its 6.8-inch AMOLED under-display camera with the first OLED full screen in mobile gaming. Moreover, with 1.48 mm narrow left and right bezels, 2.28 mm for the lower bezel (chin), and 1.68 mm for the upper bezel (forehead), the bezels are as thin as possible.
There are three main improvements in the second generation of UDC. First, the industry's first independent pixel drive technology, where each pixel is controlled independently, further improving screen clarity. Next is an improvement on the UDC transparent circuit and screen circuit design. It uses an innovative transparent circuit between the UDC and the screen to create a see-through effect. A final improvement to the UDCs Pro chip is the optimization of the algorithm that allows it to reach a high resolution of 400 PPI. As part of the improvements, the primary camera has also been upgraded by integrating the Samsung GN5 camera to offer 50 megapixels for stunning images and crystal clear videos.
Upgraded OS featuring Mora, REDMAGIC's Mascot with Mecha-Inspired Designs
A combat-ready device, the Specter Warrior edition of the REDMAGIC 8 Pro features a hardcore mecha design with tough-looking lines and elegant aesthetic details that evoke a sense of depth and space. In contrast, the Dark Blade Warrior interlaces its beauty between layers of light and shadow created by the high-gloss glass. Both devices come with standard 165W chargers and other accessories.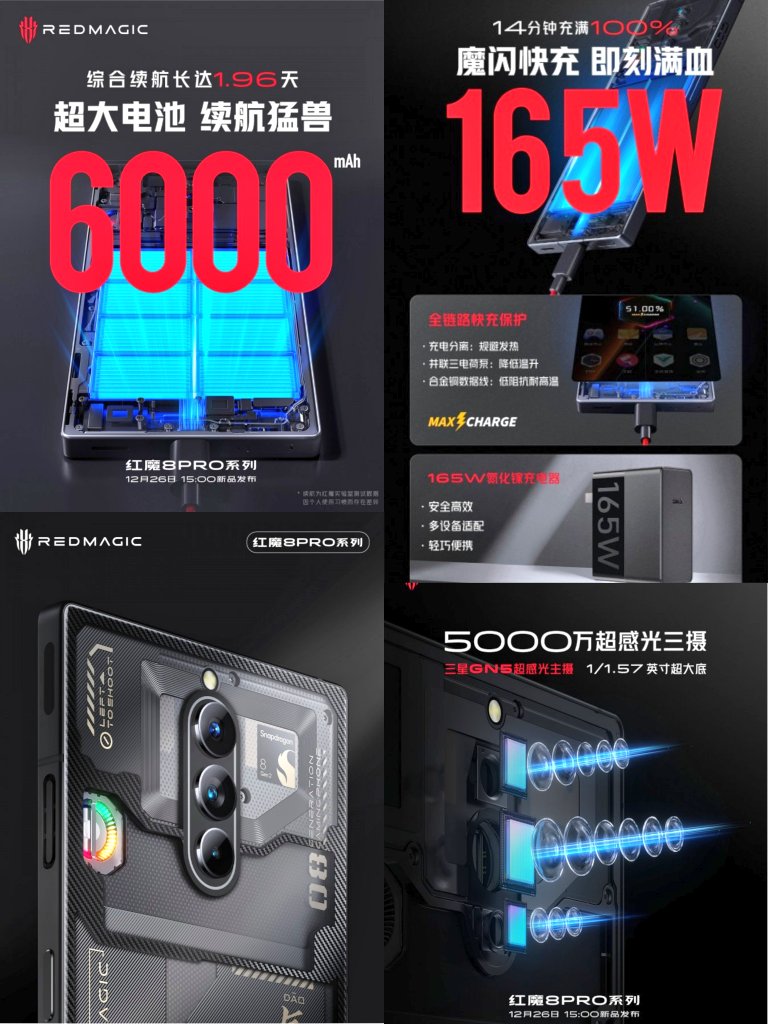 REDMAGIC 6.0 powers Mora as the first virtual host on flagship gaming smartphones to live stream games with "XR Labs" to become the virtual assistant to remind users of daily tasks and calls and to be featured in dynamic wallpapers, even in augmented reality. It is also enhanced by new visuals, rich plugins within the Game Space, and powerful REDMAGIC Studio. As part of the REDMAGIC ecosystem, it provides fans with a smooth and immersive experience not only when playing games but also when streaming movies and participating in video calls, and more as part of the REDMAGIC ecosystem.
REDMAGIC 8 Pro is a gaming smartphone for daily use, thanks to its cube performance optimizer, which enables the device to be used for extended periods. It also features an upgraded primary camera with GN5 Samsung and powerful ultra-linear dual speakers with1216 +1115 K that have achieved Snapdragon sound certification for headphone sound quality. As a result, fans can now enjoy 96KHz of lossless sound quality, making the REDMAGIC 8 Pro the King of Performance.
Pricing and Availability
● China: product launch and pre-order is December 26th, 2022 and open sales from December 28th, 2022 with starting price of ¥ 3999.
● Global Version of REDMAGIC 8 Pro:
○ Announcement: January 16th,2023
○ Early Bird Offer: January 28th, 2023
○ Open Sales: February 2023