In this day and age an increasing number of people are hard pressed for time. The end result is that health checks are put on the back burner. Eyesight tests in particular are only given due consideration when a vision problem is sensed. What's often forgotten is the fact that many eye problems can be diagnosed, controlled and even corrected with a simple visit to the optometrist.
Eye conditions like myopia, hyperopia, astigmatism, and keratoconus can be kept in check through the use of corrective contact lenses. So, a visit to the optometrist is a step in the right direction. But if you still can't find the time or lack the motivation to schedule an appointment with your local eye doctor, you need not sweat. Technology has come to the rescue yet again. With mass sales of immensely popular gadgets such as iPhone, iPod Touch and iPad, a visit to the optometrist is just 0.99 cents away.
Best iPhone Apps To Test Your Eyesight
The Free Vision Test App
The Vision Test (free) developed by a company called 3 Sided Cube offers convenience at your fingertips. All you have to do is download the app on your iPhone from the iTunes stores. This app can check your visual acuity; it can perform a whole gamut of tests such as an astigmatism test, a color test, a Duochrome test, and a far field eyesight test. The features don't just end here.
You can also use the app to locate an optician in your area and can also test your knowledge by taking the eye quiz. The app also offers you plenty of facts and information pertaining to vision in general and what you ought to do to keep your eyesight intact.
This app particularly benefits those who have been procrastinating that much required visit to the optometrist. What's even better is that you can use the app to test your child's eyesight. There are plenty of optical illusions that are both interesting and engaging, thus making the eye test more fun than a regular visit to the optician. According to the American Academy of Pediatrics, visual acuity tests for children should ideally begin at the age of three. While the app has a Snellen chart that measures visual acuity, you will in all likelihood not be able to test a 3 year olds visual acuity with the app, because the toddler may not yet be able to identify all letters used on the chart.
The iPhone eye test can save you from the expensive visits to the optometrist. But if you do fail the eye test, you must schedule an appointment with your local eye doctor at the earliest. With the availability of innovative technologies, people now have access to cheaper health care options.
Those who can't afford eye surgeries often avail of Lasik surgery in Mexico, cataract operations in India, and other eye treatments in the developing nations. However, why exacerbate the problem so much that one has to undergo a full-fledged eye procedure when a simple iPhone app can nip the problem in the bud, provided the user is discreet enough to use it. No wonder the inexpensive apps like the vision test apps for the iPhone are fast becoming popular among doctors and patients alike.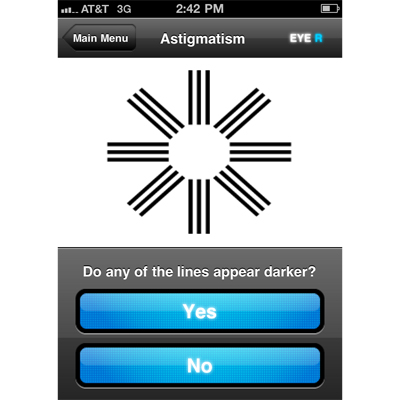 >
An iPhone App for Both Adults and Children
Another useful eye test app developed by Bokan Technologies works on the same lines as the one designed by 3 Sided Cube. The interactive features of this test make it exciting for both children and adults. It's particularly helpful to have this iPhone vision test app if you need to check your visual acuity regularly. You can also check the progress you've made if you've started the treatment prescribed by your ophthalmologist.
Reviewers call the eye test tool useful and accurate. A vision test is now just a tap of your finger away! So for those who still don't own an iPhone, you know what should be on your Christmas shopping list this year.