Introducing the HONOR Magic5 Pro and HONOR Magic Vs, our top picks for the year. These high-end gadgets from the flagship HONOR Magic Series boast exceptional features and advanced technological systems that revolutionize your smartphone experience. Whether you cherish photography or need a chic foldable gadget, trust the HONOR magic series to surpass all expectations. Discover why you should consider the HONOR Magic5 Pro or HONOR Magic Vs for your next upgrade.
HONOR Magic5 Pro: The Game Changer in Every Aspect
Exceptional Photography
Starting with the camera, HONOR Magic5 Pro boasts groundbreaking innovations like Millisecond Falcon Capture algorithm and AI Motion Sensing capture that will definitely change how you capture on a smartphone. This unique Millisecond Falcon Capture feature offers users an exceptional opportunity to seize fast moving scenarios within a blink of an eye without compromising on clarity. In other words, with this new feature, you can capture fast moving subjects with extreme clarity in no time, this is fascinating, isn't it?
Another notable feature of HONOR Magic5 Pro, the AI Motion Sensing technology. It can accurately detect a wide range of scenarios. Whether you are capturing a captivating running scenery, an exhilarating jump, this intelligent feature ensures that you never miss a single moment. Imagine being able to effortlessly capture and seize your own exceptional moments with the confidence that this cutting-edge technology will recognize and highlight the perfect shot, you loved it? Yes, we loved this feature too.
Exceptional Display
Moving to the display, HONOR Magic5 Pro features one of the best displays available in the market and you should consider getting the HONOR Magic5 Pro if you want an unparalleled visual experience on your smartphone. The phone boasts a remarkable screen which has achieved the top spot in the DXOMARK Smartphone Display Ranking with an impressive score of 151.
Firstly, it distinguishes itself as the first smartphone to incorporate both LTPO display and 2160 PWM Dimming technology into its setup, for an even more impressive viewing experience with ultimate comfort even with extended usage hours.
In addition, the HONOR Magic5 Pro provides an extensive 6.81-inch screen, enabling you to enjoy all your preferred content on a large display, delivering exceptional visual satisfaction. Whether you're catching up on the latest movies, diving into immersive gaming sessions, socializing or browsing the web, this ample display guarantees that you will never miss a detail and will get the maximum enjoyment.
Exceptional Performance
Another aspect of HONOR Magic5 Pro strength is its powerful performance. When it comes to battery life, HONOR Magic5 Pro boasts a remarkably durable 5100mAh battery that enables you to remain active and efficient without being burdened by constant low-battery notifications.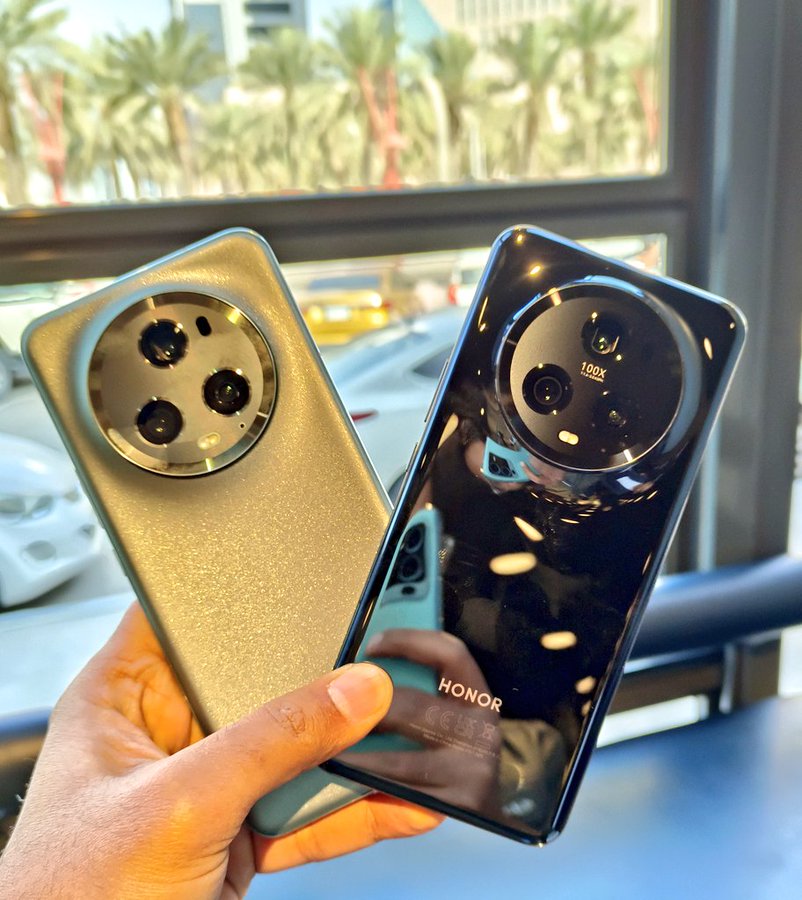 Moreover, with its convenient
66W Wired and 50W Wireless HONOR SuperCharge feature
, recharging your phone becomes incredibly hassle-free.
The HONOR Magic5 Pro is an amazing smartphone with powerful performance. The latest Snapdragon® 8 Gen 2 Mobile Platform ensures that tasks are executed quickly and efficiently, providing a seamless user experience. Whether multitasking, gaming or streaming content, the chipset guarantees smooth and responsive phone usage like never before!
The HONOR Magic Vs: A True Revolutionary Smartphone in The Foldable Market
Are you tired of the same old phone design? Do you want something that breaks away from the norm and stands out in a crowd? Look no further than the HONOR Magic Vs. With its innovative foldable option, this phone takes versatility to new heights. Not only does it offer convenience on-the-go, but it also turns heads with its sleek and modern appearance. Don't settle for ordinary when you can experience extraordinary with HONOR Magic Vs.
Sleek Design with No Gaps
From the first sight, the HONOR Magic Vs design will grab your attention and take you by surprise with its distinctive features. Its sleek and seamless design is too good to overlook while the iconic colors add more charm to this beauty. HONOR has paid close attention to every little detail, ensuring nothing was missed in creating such an astonishing foldable.
Moreover, the HONOR Magic Vs is unique among other foldable gadgets because of its seamless structure and hinge technology. While some foldable smartphones may reveal noticeable gaps when folded, this one boasts a gap-free design that enhances both looks and grip. In addition to improving aesthetics, slim, lightweight design, you'll be amazed at the seamless transition between folded and unfolded states, thanks to its sophisticated hinge design.
According to HONOR, this all new foldable can withstand up to 400,000 folds, equivalent to more than ten years of use with 100 folds per day, setting a new benchmark for foldable smartphone design.
Impressive Display for Unlimited Possibilities
When you unfold HONOR Magic Vs, it will give the vibe of using a tablet, thanks to its 7.9-inch inner display which makes it doubly useful for both productivity and leisure activities. For those who desire to perform different tasks simultaneously without any hassle or need more screen space for their entertainment, this device is an absolute gem!
Featuring screen refresh rates of up to 120Hz, the HONOR Magic Vs can display more frames per second for smoother visuals, effectively reducing motion blur. With HONOR Magic Vs, you are guaranteed an immersive entertainment experience whether you are watching movies, browsing the web or gaming.
Additionally, HONOR Magic Vs supports up to 1.07 billion colors and a wide color gamut of 100% DCI-P3, enabling you to enjoy stunning visuals with vivid clarity and vibrant colors, perfect for viewing photos, videos, movies and more.
Mighty Battery Among All Foldables
Another interesting part about HONOR Magic Vs is its huge 5000mAh battery. It is worth mentioning that it's tough to make the battery bigger in foldable smartphones as they're so complicated. But HONOR did something amazing with their HONOR Magic Vs hinge design and better phone battery tech which resulted in more space for a huge 5000mAh battery.
Equipped with wired 66W HONOR SuperCharge, the HONOR Magic Vs has got your back by charging the battery to its fullest potential in only 46 minutes. So, no need to stress about low battery levels anymore!
Color and Availability
Designed for adventurous spirits, the HONOR Magic5 Pro 5G will be available in two stunning colors – Black and Meadow Green, all inspired by the wonder of nature.
The HONOR Magic Vs 5G is available in two stunning colors – Cyan and Black. Inspired by the lush green colors in nature, the one-of-a-kind Cyan colorway is the perfect choice for the fashionable crowd, and Black, a classic colorway that never goes out of style.
HONOR Magic5 Pro 5G & HONOR Magic Vs 5G will be available for purchase through Jarir Bookstore, eXtra, STC, Zain, LuLu, noon, Amazon and retail shops.