Facebook is making lots of changes in its layout these days. And like always, few of them are really annoying the Facebook users. The latest in this annoying Facebook update is the Facebook Ticker. Facebook Ticker shows the real time updates from your friend in your sidebar, just like Twitter. But this New Facebook Ticker is really annoying and lots of people are asking that how to remove the New Facebook Ticker.
By default , there is no way to
remove the Facebook Ticker
but you can do that using a
Chrome browser extension
.
Facebook Ticker Remover
is a Chrome browser extension which removes the annoying
Facebook Ticker
. This nice
Facebook Ticker remover
removes the
Facebook Ticker
from the Facebook frontpage and also from the Facebook Chat sidebar.
Download Facebook News Ticker Remover Chrome Extension
After installing the
Facebook News Ticker Remover extension
, your Facebook profile will appear like the image shown below.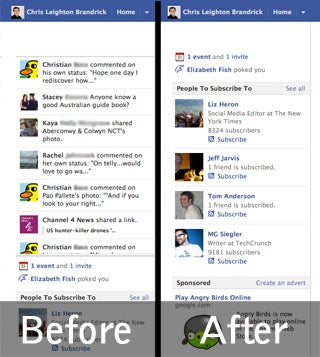 And if you are not having the
Google Chrome browser
then, there are few tricks which you can use the minimize the effect of
Facebook Ticker
which I am going to share in the next post.