ANNOUNCEMENT :
We are giving away six-month subscription of SafeDNS Safe@Home Parental Control Internet Service. Use the widget below to participate in the giveaway.
a Rafflecopter giveaway
Privacy and security are the top most concern of any Internet users these days. There are lots of antivirus, malware protection etc. available in the market but still there is always a risk of getting your computer infected from the virus and malwares. In the worst case scenario, hackers can even have the access to your confidential data on your computer.
Also if you are a parent, you should be worrying about the content your kids are accessing on the Internet as it is full of content not suitable for kids like pornography, hate speech, violence, racism etc. SafeDNS is one stop solution to get rid of all these issues.
SafeDNS
is an Internet solution which provides the protection from malware, botnet, phishing along with very useful and interesting features. SafeDNS is having different kind of solutions categorized under Home, Enterprise, Education Institutions etc. divided in "Safe@Home" and "Safe@Office" plans. Here we are going to talk about the SafeDNS Safe@Home plan and its features.
How to Use the Parental Control Software to Filter, Block and Monitor the Content Kids are Accessing
Easy and Quick Installation
SafeDNS is available for all of the popular platforms like Windows, Mac, Linux and Android OS. You can directly configure the settings on your DSL or WiFi router. The installation is very simple and just takes a minute. If you do not want to do the manual configuration, you can use the
SafeDNS Agent
for the very same purpose.
Unfortunately, SafeDNS is not available for the iOS devices like iPhone, iPad etc and Windows Phone devices yet. And the SafeDNS Agent is also available just for the Windows computers.
Malware and Bot Protections
Getting infected by a malware is a very common incident these days.
Malware can come in any form
like by downloading a file from torrents, clicking on an online advertisement, installing a web browser extension or a software on your PC. So it is hard to avoid them. SafeDNS blocks access to any website and phishing sources to
keep your computer and data safe from hackers
.
Parental Control and Content Filtering
SafeDNS comes with a nice parental control feature as well will let you filter the content your kids are receiving while browsing the Internet. All you need to do is to go to the "
Content Filtering Settings
" and you will find a huge category of websites like Phishing, Academic Frauds, Drugs, Gambling, Pornography etc. You can just select the categories of which you would like to block the content on your Internet connection and any website under that category will be filtered and blocked.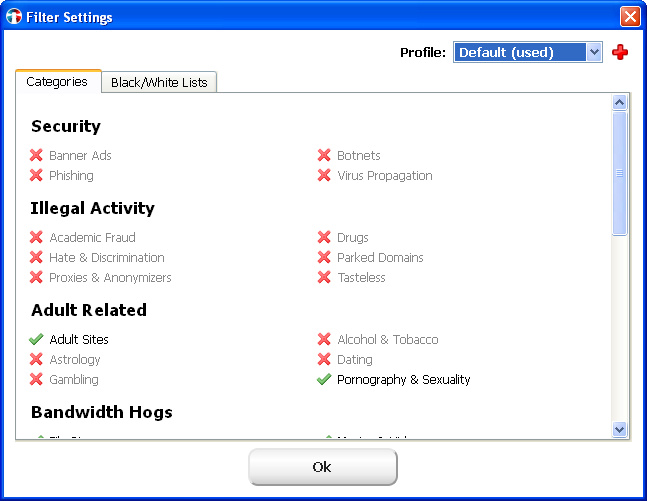 A user can also add the websites manually under the
Black/White List
to have access to few particular websites under a blocked category or to block a website under an allowed category. You can even use more than one user profile to quickly change the settings and get access to your choice of sites.
You can
password protect
your SafeDNS agent, so nobody else will be able to change the settings or delete the app. You can even hide the tray icon to not let anybody know that the SafeDNS is running on that computer.
Fast Internet Speed
One of the good thing about SafeDNS is that even though it monitors your Internet activity and provides you protection, it doesn't affect the Internet speed while performing all the tasks. So you can enjoy the faster Internet without worrying about any kind of Internet threat to your computer, thanks to the DNS servers of SafeDNS which are distributed across the USA and Europe.
You can try the SafeDNS for free for two weeks and keep using it even after the trial period but with limited functionality. But with just $19.95 per year, you can get the SafeDNS Safe@Home plan and enjoy the Internet without worrying about any kind of Internet threats.
So if you are looking for the
better privacy, protection from Internet threats like phishing and malware
along with a better parental control on what your kids are accessing over the Internet then, you can give SafeDNS a try and you will like it for sure.