HTC U11
is the latest flagship smartphone of HTC under the recently launched U series. It is a high-end smartphone and we were trying our hands on the device since its launch. In this article we are going to share a detailed hands-on review of HTC U11 with all readers of
Geeky Stuffs
after using it for months.
This review is divided in various section to cover each aspect of the device separately and talk about the pros and cons of each part for better understanding and explanation.
HTC U11 : Detailed Hands-on Review, Features and Specs
Retail Box and Unboxing
HTC U11 comes in a nice white retail box, very much similar to previous HTC flagship smartphones.. Inside the retail box you will find the device, USB type-C cable, quick charger, USonic in-ear earphones, some booklets and user manual.
There is a plastic bumper case provided as well to protect minor damage and scratches to the back of the device and it is designed to not affect the Edge Sense functions in any way. There is also an USB Type-C to 3.5MM adapter included to use any headphones with 3.5mm audio jack.
You can watch our
HTC U11 unboxing video
below.
Design
The design of HTC U11 is unique and whether you will just love it or you will not. The front of the device is pretty regular and does not follow the current trend of thin bezels. So if you are one of those guys going gaga over the thin bezels and huge screen-to-body ratio then, you might dislike the front of the HTC U11. But the good thing about not so thin bezels is that it makes screen a bit less prone to damage and shattering compared to thin-bezel smartphones.
On the front side of HTC U11, there is 5.5-inch
Super LCD5
3D screen protected by the
Corning Gorilla Glass 5
and a fingerprint scanner below the screen. Just above the screen, there is the earpiece, front-facing camera and a set of sensors.
On the back of the device, there is a the primary camera, dual tone-dual LED flash and the HTC logo in the center. A microphone is provided at the lower back part. But the best part of the back of HTC U11 is the Liquid Surface. It was introduced along with the HTC U Ultra and U play but didn't get the attention it deserved. But with HTC U11 it is enhanced and the beauty of it is mind-blowing.
HTC U11 Liquid Surface back panel
reflects the light and at different angle the back of the device looks different in color. So the Amazing Silver variant of HTC U11 shows silver and blue colors on its back and the shade keep changing all the time. The Solar Red reflects red, orange, pink, golden and many more fiery colors just like the sun. The back is protected by
Corning Gorilla Glass 3
as well.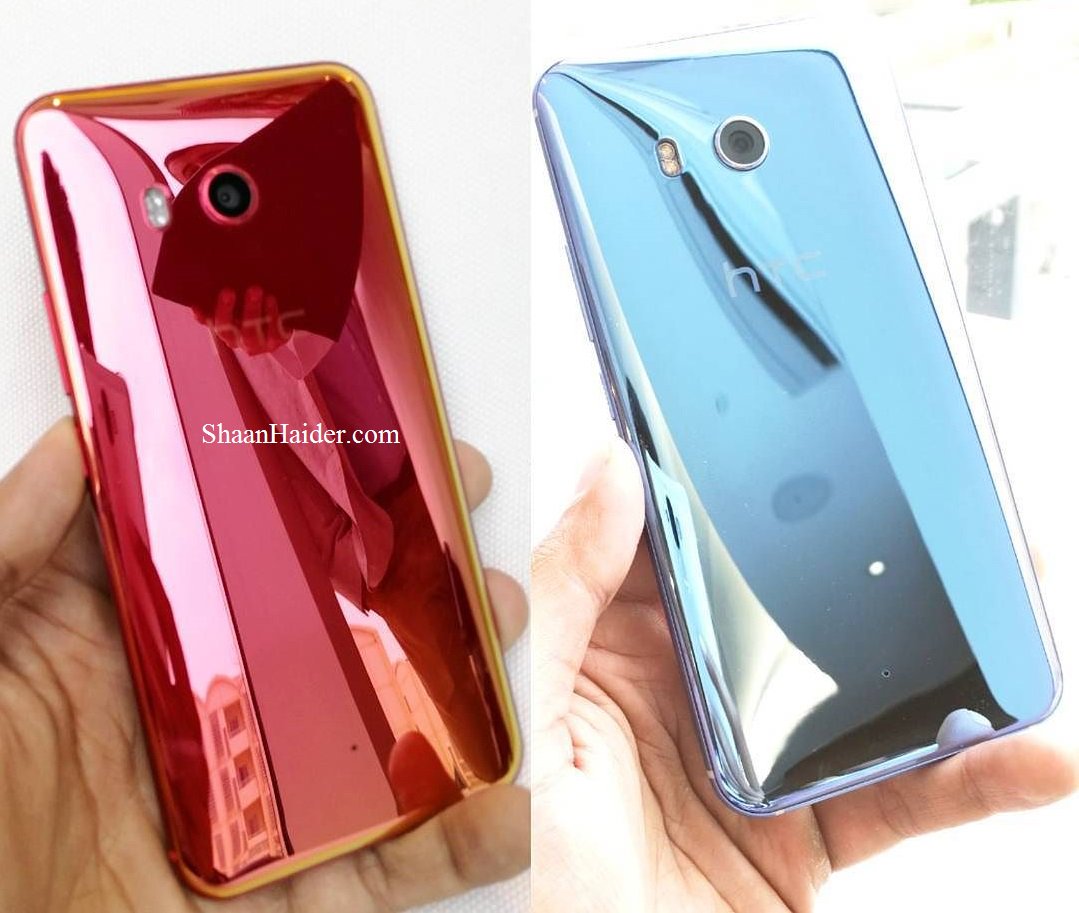 Even though the glass used on HTC U11 comes with Gorilla Glass branding and makes the device beautiful, it also makes the device fragile to some extent. So better to use a nice transparent case on it for the protection of the device while still showing off its beauty. The plastic bumper case provided in the retail box is good but very prone to scratches and soon will start looking old. So better to go for a nice third-party case for your HTC U11.
At the bottom, there is a USB Type-C port that also works as the audio jack along with the microphone and the
BoomSound
speaker. At the top there are SIM card slots and a microphone. The antenna lines are provided on the sides, top and bottom of the device to make them hidden most of the time.
The overall design of HTC U11 is really good and even though the screen-to-body ratio is a bit low compared to few other smartphones, it is still good enough. It feels so good in hand to hold the device because of the combination of metal body, glass back panel, curved edges and symmetrical design of the device.
HTC U11 is one of the most beautiful smartphone of 2017 and the credit goes to color changing back panel and symmetrical design of the device. But the combination of glass and metal, heats up the device quickly while using outdoors in extreme Middle Eastern heat. Good thing is that it cools down quickly as well once in shade.
Overall the design of HTC U11 is very nice and it is one of the most beautiful smartphone of 2017. The build quality is great, it looks premium and feels great in hands.
Hardware and Specs
HTC U11 is powered by
Qualcomm MSM8998 Snapdragon 835
octa-core processor. It consists of a 2.45 GHz Kryo quad-core and a 1.9 GHz Kryo quad-core processor. It is the most powerful SoC currently available and you will feel it in the performance.
The GPU used in HTC U11 is the Adreno 540. It is the most powerful and the best Adreno GPU currently available and performs brilliantly. There are two variants available based on the amount of RAM and internal storage – 4 GB RAM with 64 GB internal storage and 6 GB RAM with 128 GB internal storage. The one we reviewed is the 4GB RAM variant. Out of 64 GB internal storage, user available memory is around 53 GB.
The processor and GPU combination of HTC U11 is top notch when it comes to performance. We performed various benchmarking tests on our HTC U11 and the performance of the device was brilliant and flagship in each of them. Because of the HTC's optimization of HTC Sense UI, it scored even better than other smartphones with similar hardware. You can watch many
HTC U11 benchmarking and speed tests videos
below.
There are two SIM card slots on HTC U11 and SIM 2 slot can be used as the microSD card slot too. So if you run out of storage then, you can use a memory card to expand the memory on the cost of the second SIM. Though hybrid dual-SIM slots are popular, it would be better to have the dedicated dual-SIM slots and memory card slot separately. It will surely make a difference to consumers and will attract more of them.
The fingerprint sensor embedded on the Home button is fast and very accurate. It can be used to unlock the device and apps only and does not perform any other task. Performance of all other sensors are really good.
But one of the most highlighted feature and hardware of the HTC U11 is the presser sensor embedded in the sides of the bezel on which the
Edge Sense
feature, popularly known as Squeeze. It let you perform various tasks just by applying pressure on the bezel of HTC U11 and come very handy in situation like when the screen is broken or the phone is under water and the touchscreen is unresponsive.
Talking about the underwater situation, HTC U11 comes with
IP67 water and dust resistant certification
. We tried a water test on our HTC U11 and performed nicely without showing any sign of issue under water. You can watch our
HTC U11 water test video
below.
The hardware used in HTC U11 is of top quality and performs brilliantly in everything. It lacks few fancy hardware like iris scanner and heart rate sensor but it's still okay as they are not something people use daily. Personally, I rely on my smartwatches for all health related data as they are more accurate compared to smartphones.
Software and OS
HTC U11 runs on the Android 7.1 Nougat OS and
HTC Sense UI
is used on top of it. If you have used any of the recent HTC smartphone, you will find the UI and feature very much similar to them. There is not much improvement from the previous ones like HTC U Ultra except the inclusion of
Edge Sense
.
Edge Sense comes with two options- Press and Press & Hold. As the name suggests the first let you perform a task by squeezing the bezel ones and for the second option, you will have to press and hold the bezels. Press and Hold option is included in the Advanced settings of Edge Sense.
User can select a task and assign it to any of the squeeze type. Currently it is available for stock apps only. User can also customize their pressure level for Edge Sense squeeze. It is a very good feature and works underwater too. HTC is currently working to enhance Edge Sense by integrating with many third-party apps and also in bringing the in-app action to perform multiple tasks while using a particular app.
The quick toggle screen comes with lots of options and is customizable. There is also the gesture and swipe feature provided that let user perform some particular tasks but requires a bit of practice too. On the Home screen, there is BlinkFeed still available where you can get all the news and social media updates of your account. I guess HTC can happily remove it now as I do not think many people use it, at least I do not like it at all.
People can hide apps in the app drawer, create folders to group apps together on Home screens and even in app drawer and can also rearrange them in various ways. The lock screen offers the same four app shortcuts available on the Home screen and they can be launched directly from the lock screen.
There are two theme options provided – Classic and Freestyle. Freestyle themes were introduced with HTC 10 and let user customize the theme, icons, shortcut position as user want without any restrictions. If you love to play with your smartphone theme and customize it to make it unique, you will love the Freestyle themes. HTC Sense UI support's Android's native split screen and follows the same method to use it as well.
HTC's Boost+ app
comes with some nice options like Boost for automatic optimizations of the device by freeing RAM, Clear Junk that removes cached files. There is the 'Optimize Background Apps' option that disables the apps not used in the last 3 days or more. You can even customize it according to your preference per app.
The "Power Optimizer" in HTC's Boost+ let you manage the resource-hungry apps using the "Foreground Optimizer" that adjusts the app while running to save battery and the "Background optimized" stops apps from running in the background.
HTC Sense is a lightweight ROM and due to this, speed of HTC Sense is really impressive. HTC Sense is well known for working smoothly over the years even on low-end devices, so you will rarely feel any lag on it.
The bad thing about HTC Sense UI is that HTC removed all its apps like browser, keyboard, gallery, calendar etc since last year to make the UI lightweight and faster as people can perform nearly all these tasks with Google apps. But if you do not like the Google apps for these purposes, you might feel a bit issue in adapting or looking for third-party apps.
Screen and Display
HTC U11 comes with a 5.5-inch Super LCD5 screen, 71.5% screen-to-body ratio makes it pretty easy in hands. It sports a beautiful 1440p Quad HD screen with 3D curved glass and 16M colors reproduction.
With 1440 x 2600 pixels resolution on a 5.5-inch screen, you will get 534 PPI. It makes the display quality very crisp, sharp and you will not notice any pixels on the screen. HTC U11 screen is comes with Corning Gorilla Glass 5 protection and works very well. We tried a scratch test on HTC U11 and the Gorilla Glass 5 protection performed brilliantly. You can watch out
HTC U11 scratch test video
below.
As mentioned earlier, there is Split Screen available for better productivity. Screen brightness is good enough to use the device outdoors in bright sunlight without any issue and it goes very low at the lowest brightness setting that you can use the device at night without activating the night mode. The viewing angles are nice as well. Response to touches are quick and accurate all the time.
There is night mode provided that let user reduce the blue light being emitted from the screen and so provide an easy viewing experience at night when the surrounding light is low. User is also having the option to customize the color pattern from cold to hot according to their need.
HTC U11 screen is by default at very cold tuning for some reason and due to this the screen appears with a purple tint or bluish, specially at low angles. Fortunately, you can tune the color temperature settings to fix this issue.
Overall the display quality of HTC U11 is great. It comes with sufficient brightness, great viewing angles, very responsive and accurate touchscreen, Corning Gorilla Glass 5 protection but with slight purple tint.
Camera and Imaging
HTC smartphones are always well known and popular for their camera performance and innovative features. HTC U11 is carrying the flag here as it scored 90 in
DxOMark
, the highest ever. It comes with a single 12MP rear camera setup. Other specification of rear camera are f/1.7 aperture, 1.4 microns pixel size, Optical Image Stabilization and Phase Detection Autofocus along with dual tone dual-LED.
The HTC U11 camera UI is similar to other HTC smartphone with slight changes as it comes with few unique features like 3D audio in video,
Acoustic Zoom
etc. On the viewfinder, user can switch between rear and front camera, access the gallery and select between the image and video mode. On the top of the viewfinder, there are options provided to turn on/off the HDR and LED flash. By tapping on the hamburger icon, more camera modes and settings can be accessed. The UI easy to use and all camera modes are provided in a slider. Selecting any camera mode provides more option related to it. General settings are basic and same as we are seeing on HTC smartphones since a long time.
In the
Pro
mode, user can play with various camera settings manually to get the best result. Pro mode let user create three camera profile settings to quickly capture the images for a particular kind of photography situation. In Pro mode, user can capture the images in either JPEG or RAW format.
There are regular photography modes provided like Pro, Panorama etc. Panorama mode works only horizontally and performs very well. The stitching is one of the best ever you will find in smartphones with lots of details and good amount of resolution as well.
The image quality is brilliant in every aspect. The focusing is superfast, image processing is very fast as well. The image output comes with great amount of details, very good, natural looking with good amount of sharpness, natural looking colors and no oversaturation.
Even with single-lens, the bokeh effect created is very nice and even better than many dual-lens smartphone cameras dedicated to create bokeh effect. The focusing performance of HTC U11 is as good as Lumia smartphones if you would like to compare it with single-lens devices.
In the video mode, user can select the resolution. Earlier there was no option to select the FPS for 1080p video but with an update, now this option is available in the HTC U11 camera. The 4K and 1080p video quality is great with lots of details. But one drawback is that 4K video recording is limited to 6 minutes in one go only.
Two new video recording features in HTC U11 camera is the 3D Sound and Acoustic Focus. The second one works only in the primary camera and it works brilliantly. While recording the video, when user zooms in then audio coming from the object increases giving the true zoom effect. It is very useful feature as it reduces the ambient noise a lot and concentrate on the sound of the primary object in the video. You can watch the sample of HTC U11 video recording quality and Acoustic Focus in below video.
Slow Motion video recording mode provides great quality output with full HD videos at @120fps. Also the audio for slow motion videos gets enhanced as well to some extent to sound less weird. Timelapse video output of HTC U11 is nice too and the video stabilization is very nice well.
The front camera of HTC U11 comes with 16MP resolution. There is no OIS, autofocus or UltraPixel in the front cam as we have seen in the HTC 10 and U Ultra earlier but still the performance of U11 front cam is nice.
It provides lots of details and nice output overall. The front camera UI is simple and comes with beauty mode only. The front camera video recording is very nice, comes with good amount of details and capable of recording 1080p full HD videos.
Overall the camera performance of HTC U11 is brilliant and one of the best overall in currently existing smartphones. If you are looking for a great camera smartphone, U11 must be your first choice.
It would be even better to include some nice camera modes like Huawei smartphones that let user capture images in different situation without playing much with the camera settings manually as not everyone is good with Pro modes.
Gaming and Entertainment
When it comes to gaming, the combination of flagship hardware, great screen and BoomSound can never go wrong. HTC U11 performs brilliantly in gaming and the credit goes to the Snapdragon 835 and Adreno 540 GPU. The 3D graphics rendering is smooth, quick and graphics come with lots of details. You will not feel any lag or frame drops while playing the most high-end games on it.
HTC U11 does not heat up much even if you play high-end games for longer duration. The 5.5-inch Quad HD screen and the BoomSound stereo speakers contribute a lot in enhancing the gaming experience of user as well.
Google's Play Music is the default music app on HTC U11 and serves the purpose. The audio output from the speakers is loud and clear. You will find lots of details and rich audio quality from the speakers of HTC U11.
User can also select between the Music and Theater mode while using the speakers for audio output to suit the type of content they are watching or listening on their HTC U11.
HTC U11 comes with
USonic
earphones that scans the ear of users and create audio accordingly to provide better listening experience. USonic on HTC U11 comes with ANC to perform even better compared to HTC U Ultra, Bolt etc. and reduce the noise while listening music. So the sound quality from provided earphones is great too.
One issue on HTC U11 is that it comes with the hybrid USB Type-C port for charging the device and connecting the USonic earphones. So you can't charge the phone and listen music at the same time. Also since there is no 3.5mm audio port, you will have to use the Type-C to 3.5MM adapter to use your own earphones.
Battery Performance
HTC U11 comes with 3000 mAh Li-ion non-removable battery. The battery is not huge compared to many other smartphones but it performs really good, thanks to the combination of HTC Sense UI optimization and less resource-hungry hardware.
With moderate usage and tweaking the options, HTC U11 battery survives nearly one hand half days easily. Even with heavy usage, you will get one day of battery life most of the time.
There are few power saving modes provided as well that reduces the device performance and restricts many hardware functionality to increase the battery life. Also the Boost+ app can be used to control how apps perform and consume the battery when they are running in the background and foreground.
The battery charging speed for
Qualcomm Quick Charge 3.0
is standard and the battery gets charged from 0% to 100% nearly in one hour and 40 minutes. You can watch our
HTC U11 battery charging speed test
below.
Virtual Assistant and Productivity
HTC U11 comes with three virtual assistant –
Google Assistant
,
Amazon Alexa
and
HTC Sense Companion
. You might already know about the first two. HTC Sense UI is more personalized and works as extension of Google Assistant by providing tips and suggestion on more personal level.
It monitors the device for your schedules on calendar, health data, location, battery performance and provide tips by popping up a bubble icon on the screen. In the beginning it is very slow in providing tips but once it accumulates sufficient data, it works nicely and keep getting better with time.
Amazon Alexa is more Amazon oriented and the voice recognition is average. Google Assistant is much better in overall performance and I guess people would love to stick with it in the regions where Amazon Alexa is available on U11.
Conclusion
HTC U11
is one of the best and most powerful smartphone currently available in the market. It comes with a great design and Liquid Surface back panel, big and beautiful screen, great camera with many unique features like Acoustic Focus, 3D audio recording, lightweight and productive HTC Sense UI, three virtual assistants, along with a very good battery life for its capacity.
Among this year's flagship smartphones, HTC U11 is definitely at the top position and giving tough competition to every smartphone in all aspects like design, beauty, overall performance, camera performance and features etc.
Overall, HTC U11 is a great phone and one of the best smartphone of this year as it scores brilliantly in every aspect. If you are planning to buy a flagship smartphone with great performance, camera and design, HTC U11 is obviously a nice option for you.