Recently we reviewed the
RODE VideoMic Me smartphone microphone
and later also had the opportunity of trying
SmartLav+ microphone
. Even though designed for smartphones, SmartLav+ is an entirely different kind of microphone and serves different purpose.
In this article, we are going to share a detailed
hands-on review of RODE SmartLav+ lavalier microphone for smartphones
considering all of its features, specs, pros and cons.
RODE SmartLav+ Microphone for iPhone and Android : Hands-on Review
Inside the Box
RODE SmartLav+
comes in a small retail box and inside you will find the microphone along with the carrying pouch, windshield, clothing clip, some user manuals and a strap.
There are also some silicon gel provided in the box to avoid any humidity that can affect the microphone negatively and damage it. Everything fits perfectly in the given pouch and you can carry all content of the box easily with or without the retail box.
Design
RODE SmartLav+ is a lavalier type omnidirectional microphone. It is tiny condenser microphone with great build quality. It is small enough to hide well in clothes easily. The cable provided is Kevlar® reinforced and due to this, it is very durable and can easily survive the wear and tear that a lav mic faces on daily usage.
The lav clip provided is made of metal and looks sturdy and strong. It helps user keep the microphone placed well and attached to the body. The windshield is basically foam pop one and serves the purpose. The TRRS jack comes with RODE branding and the material used in it is also of good quality.
It is designed basically for the smartphones and that is why it comes with a 3.5 mm jack. If you would like it to use with other cameras then, you will have to use a suitable adapter for that.
Features
RODE SmartLav+ is an omnidirectional microphone, so it records audio from every direction. This is good for most of the situations except where you want audio to be record from one direction only and other sound to be reduced. For that, you need a directional microphone like
RODE VideoMic Me
.
RODE SmartLav+ comes with a TRRS 3.5mm jack, so it can be plugged directly into most of the smartphones, tablets and computers. When it comes to compatibility, RODE SmartLav+ is designed for the iOS devices like iPhone and iPad but also support majority of Android smartphones as well with TRRS 3.5 audio jack.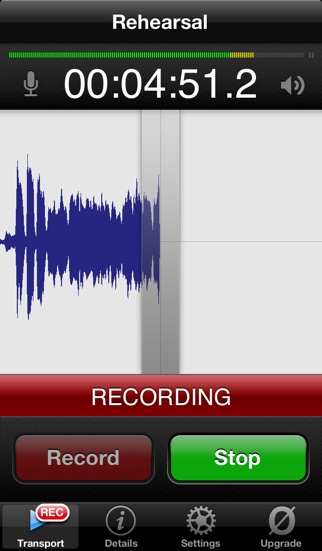 But the
RODE Rec
app is available for
iOS devices
only and Android users will have to use other third-party audio recording app on their devices. There are two versions of the RODE Rec app available - free and paid app. The free version of the app let you select the four different sample rates and various channels for audio recording and provide few basic settings.
The paid version of the RODE Rec app brings the equalizer settings, playback speeds and more features. User can share the recording right from the app in many ways and can also upload online.
For
Android
, you can use any app that supports recording through an external microphone and you will be good to go as there are many feature rich apps available on the Play Store.
Performance
RODE SmartLav+ is very easy to use. All you need is to do is to plug it to your device and use a compatible app to record audio and videos using it. If you use the Rode Rec app then, you can also adjust the audio levels before starting the recording.
You can check some recording samples of RODE SmartLav+ in different recording environment in the below
RODE SmartLav+ review
video.
Considering the price of the product, audio quality of RODE SmartLav+ is really impressive. It records in good quality and the windshield reduces the noise to significant level. And the best part is the comfort level it brings as a portable solution.
But since it's an omnidirectional mic, it captures sounds from all direction and so a bit of unwanted ambiance sound comes in the recording. Other than this, the performance of SmartLav+ is really nice.
Conclusion
RODE SmartLav+
is one of the best portable solution available for people looking for an inexpensive microphone that can be used with multiple devices easily and provides production-level audio recording.
The design of the SmartLav+ is nice and the build quality is impressive. The audio recording is great in quality and the product can be used easily with a wide range of smartphone, computer and tablets. It is a perfect solution for vloggers and to record speeches and meetings without spending lots of money.