With tablets PCs and mobile phones coming with better specs, they are slowly replacing the conventional desktop or laptop computer in almost every aspect. One such important field is 'Internet Browsing' and bloggers and site owners can no longer neglect this very fact.
The main concern while surfing internet with these devices is that they generally have a small display screen which sometimes makes it hard for consuming information from big websites. As a solution to this problem, developers have come with 'Responsive Themes' which can adjust the site layout according to the display screen size of the device. Let us check some of the
best responsive themes available for Wordpress platform
.
Top 10 Responsive Wordpress Themes
Daily Post Theme
Daily Post
is a
FREE Wordpress theme
with a responsive design for better viewing in mobile devices. It is ideal for personal bloggers who like to share things on a daily basis. It supports various post formats and provides various customization options.
Also Check :
9 Must Have Twitter Plugins For Wordpress Blogs
5 Great Tools for Integrating Your WordPress Blog with Facebook and Twitter
How to Choose a Design for Your Business Website?
Evolution Theme
'
Elegant Themes
' which is known for providing various visually striking themes for Wordpress has come up with a responsive theme with the
Evolution theme
. This theme has great looks and is fully responsive. It is compatible with most of the web-browsers including Opera, Safari and IE.
Good Minimal Theme
Good Minimal
has a clean and minimalistic look which can suit personal bloggers and portfolio sites. You can customize the blog with customizable post types and portfolio pages built-in with the theme. By using this theme there is no need to create different sites for phones, tablets and computers as it automatically adapts itself according to the medium.
iTheme 2 Theme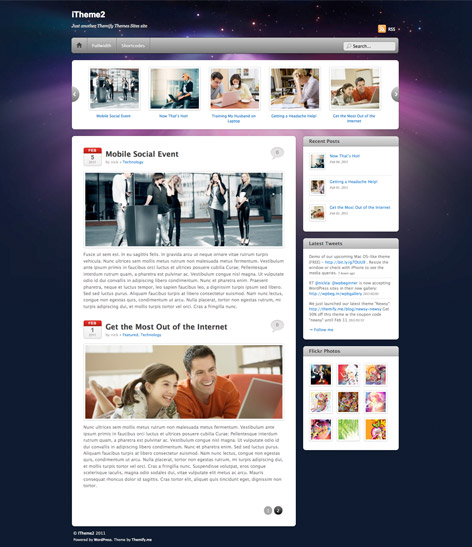 iTheme 2
is a modified and improved version of the iTheme. It has a great fluid and responsive layout which makes it a perfect theme for technology and iProduct related blogs. It has a customizable sidebar with various
social media widgets
which will help you in promoting your blog through various social networks.
Lucky Times Theme
Lucky Times
is considered as one of the
best Wordpress themes
. It is the ideal theme for your portfolio site, online magazine site or a simple blog. It has great typography and also supports Google Fonts. It also has a slider widget which can be easily accessed by touch screen enabled devices including your touch-screen phone.
Modulo Theme
Modulo theme
is the perfect
business theme with a responsive layout
. The theme comes with 4 portfolio templates with custom post types. It has 3 inbuilt sliders with which you can display images, videos etc. Also various custom widgets are available where you can display your recent articles, Twitter and Flickr profiles etc.
Also Check :
How To Tell If Your Website Design Sucks (Infographic)
Top 5 Web Design Mistakes People Are Still Making
PixelPower Theme
PixelPower
is a clean and minimal Wordpress theme with good responsive layout. It comes with a widget through which you can tell your visitors about yourself and links to your social media profiles. It includes preloaded jQuery in a noconflict mode to prevent any errors and is Favicon and Apple touch icon enabled. It can be used as a commercial or a personal blog.
Streamline Theme
The Streamline theme
is a
responsive theme
from the Genesis Frame upon which it is built as well as the responsive layout which will get readers hooked to your site no matter the device they are using.
Super Skeleton Theme
Super Skeleton
is yet another minimal and fully
responsive Wordpress theme
. It has a comprehensive HTML 5 framework and comes with a full templating system. It comes with 20 bonus HTML templates and a filterable gallery system.
The Novelist Theme
The Novelist
is one of the most beautiful and
responsive theme
. It is however not meant for regular blogs and sites but for writers to display their writing prowess through the portfolio theme which is perfect for onscreen reading through desktop and mobile devices.
Divya is an SEO strategist and works for aSEO Services Company, iNetZeal.com. She is an avid writer and has written articles on many topics such as blogging and website development strategies.