Apple Mac
has been known for its superiority to
Windows
for quite some time now in terms of how easy it is to use, but most Windows users have derided the lack of
software
available for the Mac. Apple have taken this very seriously, and devoted a lot of their considerable energies and know-how into designing the latest software. Now, not only is there a wide range available, but there are some amazing products on the market that are actually exclusive to the Mac.
5 Great Applications which You Can Get on a MAC But Not a PC
Adium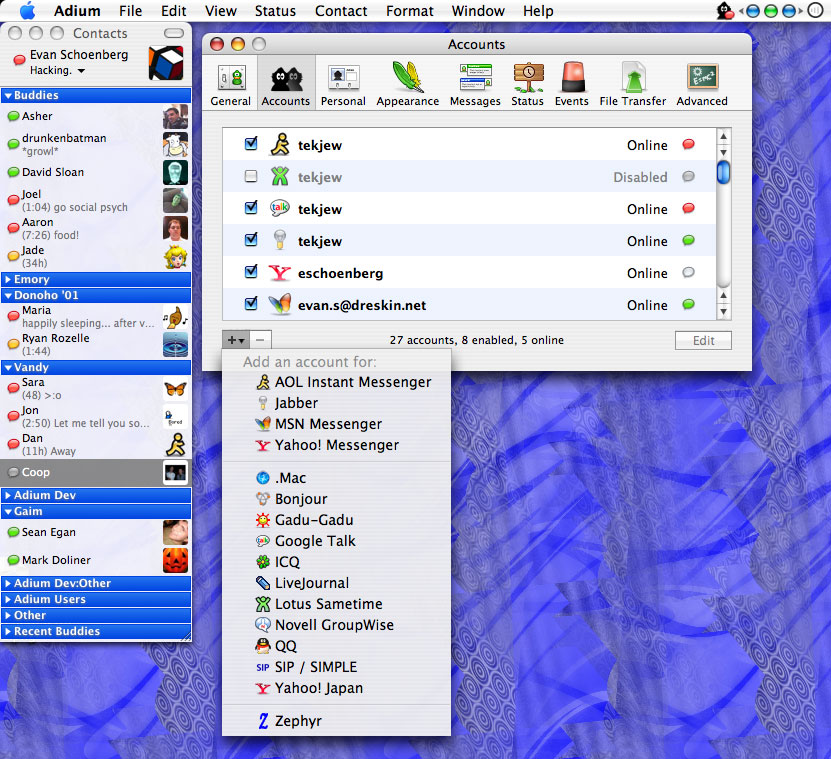 A chat programme which encompasses not just the usual IM accounts such as Yahoo and MSN, but also Twitter and Facebook chat. In fact, about the only chat system it doesn't support is Skype, and as that is free separately any way it's really no big deal. The programme can also be customised to alter the styles of contact lists, appearance of emoticons and much more.
Also Check :
Top 4 Screen Capturing Software for Mac
Top 5 System Tools You Should Have on Your Mac
HOW TO : Setup File Sharing Between Mac and Windows 7
Tangerine!
A companion for iTunes. It lets you create playlists that are perfect for particular moods or situations, by tapping into your iTunes account and pulling out songs based on their beat or intensity. Ideal when you want to quickly create a playlist before going for a run, say, without having to trawl through thousands of tracks to pick out the best jogging beats. You only have to select one track, then this beautiful little app analyses your collection and brings back everything that is similar in rhythm.
iStat Menus
It's a monitoring tool that allows you to keep track of what your Mac is doing while you are using it. It keeps an eye on all the processes that are running at any one time, and can tell you what the hard drive usage is, the system temperature, the fan speed and more. This app is perfect for helping heavy users monitor the stress they may be placing on their machines over time.
Fluid
An
app that creates new apps
from websites. You can select your most visited websites and turn them into your own personal apps that can then be run from your Mac's dock<. It can even make some of them run faster. Also Check :
HOW TO : Fix Your Mac
40+ Funny Mac vs PC vs Linux Comics
The Difference Between PC & Mac Users (Infographic)
Delicious Library 2
Simply hold up any DVD, book, video-game or CD to your iSight camera and it will read the barcode. From this, that particular media will be stored on your Mac, plus any relevant data such as reviews, links to buy and sell and even suggestions for similar media. You can also publish your library on MobileMe, so you and friends can read, watch and listen to each other's stuff for free.
A lot of these apps are free, and for those that aren't, keep checking out MigenBlog.com website office for mac promo codes, as there are often special offers on.