We all wish we were organized, but most of us aren't. Even those who are in their usual lives tend to fail when it comes to being well maintained on the computer. Messy files, random icons and shortcuts, tons of bookmarks...this is a frequent sight on even the most well organized person's PC. Which is usually a minor inconvenience.
When you go on vacation, however, organization becomes more important. From getting to the airport on time to keeping track of a busy itinerary, there is a lot of do. It is rare that a trip begins or ends for me without something forgotten, lost or just abandoned.
It wasn't until this latest vacation that I figured it out: I need to use technology to keep me on track. Being a major tech geek, I was shocked I had not considered this before. How could I have overlooked such an obvious tool?
This was when I began to think of all of the other poor, disorganized schmucks like myself that were helpless on a trip. How could I make their vacation go by a little more smoothly? By pointing out these helpful apps for any geek on the go.
Best Apps and Tools for Geeks to be Organized While on Vacation
Sticky Notes
Don't laugh, the sticky notes on you Windows desktop are actually very functional. A few days before I am set to leave, I pull one up and write a checklist of everything I need to have ready before that day. I then create another one that has a list of everything I should pack, with really important items in ALLCAPS. I never go a morning without firing up my laptop, and it saves when you turn everything off. So I have my lists right there, staring me in the face, every time I turn it back on.
Want something a little more thorough and tucked away? This is a nice program that saves as a basic XML. In it's third beta release, it has been revised again and again. At this point, I think they truly did manage to get in every feature you could possibly want in such a tool. But it is easy to use, doesn't take up much space or resources and is free.
With a rather amusing and dramatic name, you might be wondering what this program does. It is one of the best time and contact management softwares you can find online. Network enabled, easy to schedule appointments and with an effective reminder system, it is probably the only time management programs I have ever bothered to keep long term.
Also Check :
Top 5 Gadgets & Gizmos For Travel Security
Top 4 Social Networking Apps for Travelers
How Mobile Technology is Changing Travel (Infographic)
Linux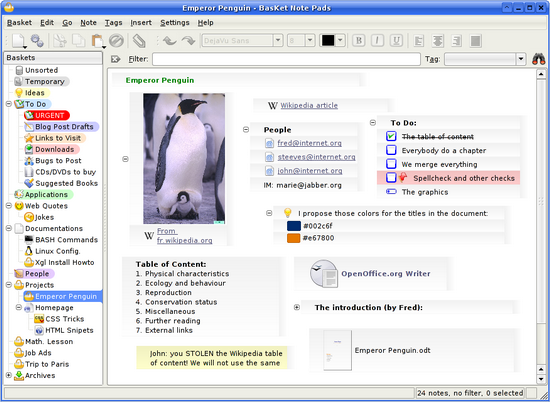 This is a great, basic note taking tool for your Linux desktop. It has inline spell checking, highlighting text, auto-linking for both URL and emails, an undo function, basic font, style and size control and bullet lists.
Unlike the one above, this note taking program is more for sharing content. Based primarily around research projects, it works to let you gather, organize and share data. There is a large list of features, so I would suggest checking it out. It is one of the more impressive freeshare programs out there.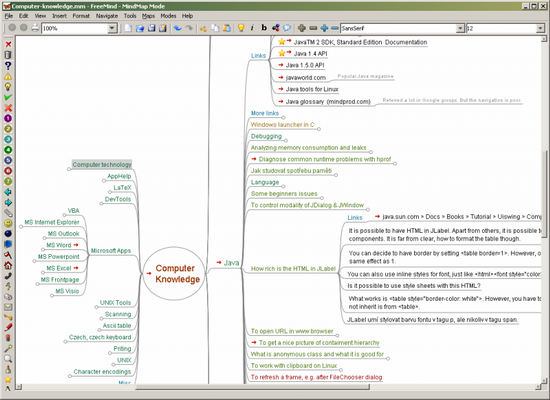 A fun little to-do list creator for the Mac's OS, this reminds me a bit of ToDoList for Windows. It is a simple list creator with limited features that nevertheless gets the job done. It also works on the iPad and iPhone, though I have found there are better apps for that.
This cool mind mapping tool isn't just for Mac, but I find it works better on the Apple operating system than it does on Windows or Linux. Of course, that was before it was updates, so it might no longer be the case.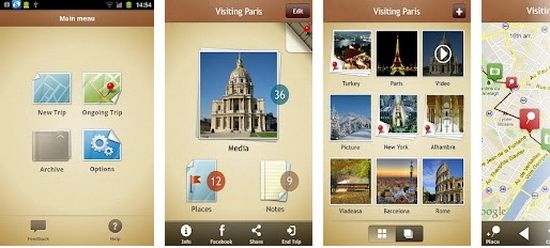 Moving away from basic organization tools, this one is for the vacation itself. Or, more specifically, the flight. Keeping track of flight times, finding delays and knowing ETA can be difficult. This app keeps track of it for you, and lets you check from anywhere. They have real time flight tracking globally.
Need to book a hotel room fast? This app will help you o it. Find local establishments, book your stay and compare prices. It has an interface similar to what you would find on a site like Orbitz or Travelocity, and it is free of bugs.
Keep track of everything you did and everywhere you went with this handy little app. Share things on Facebook, Twitter and Google+, among other sites. This is a great tool for bloggers, especially.
Also Check :
Top 7 Travel Apps for Android Phones
Top 10 Android Apps for Family Road Trips
If you have an iPad or iPhone, this is a must have app. It allows you to plan, keep track of and organize your entire trip in one place. This includes networking with others, to make it simple to keep up with travel buddies. What makes this app the best, however, is that it is free.
This is another really great travel diary. It is focused more on itinerary than anything else, and it has an offline mode.
Security is the most frustrating part about flying, without a doubt. You can skip the drama by finding out what you should check, what you should carry on, what you should leave home and where you will be likely to find delays. It is all one through the FAA with official information.
Also Check :
Top 9 iPhone Travel Apps to Help You Travel the World
Conclusion :

There is no reason you can't be organized on vacation. These tools above will help you do just that, without a whole lot of fuss. Which means you can relax and not worry while you take your much needed holiday abroad.
Jessy is the geeky writer for Dobovo.com , the free app for choosing Odessa apartments. If you are going to Ukraine, don't forget to check us out!